Hereford lost by a single goal at National League North high-fliers Bradford Park Avenue yesterday. The Talking Bull Co-Editor Simon Wright was there. Here is his take on the proceedings.
There will come a time – probably not too far away – when driving 260 miles for a match in one day will not be sensible. Right now, the counter argument is "get to as many places as you can while you can" is persuasive. The Horsfall is one of only four stadia in NLN I'd yet to visit, and an unusual one to boot. I probably managed to convince myself via my own podcast to travel to my 156th ground as a Hereford supporter. (380 in total). The paths of the two clubs may not cross again.
'Er Indoors was as usual these days confined to barracks with teeth problems. Poor old sod has barely been out the house for a fortnight, other than regular "open wide" sessions with men in white coats. But I'm blessed to be hitched to another football lover who was perfectly content for me to go out again without her. I had a worthy travelling substitute in Steve – Albion supporter, serious groundhopper and best man at our wedding. Bradford was not among the 750 grounds he'd visited. He'd last joined us travelling to Chesham 12 months ago. 12 months? Seems like several years ago now.
Once again, I submitted myself to the M6 roadworks. The Highways Agency boast of "lifting roadworks" was in the real world just removing the workforce. The 50mph limit for umpteen miles was still in place. After one 18-mile stretch (aka "Zombie Zone"), I'd become so used to jogging along that I forgot to speed up again. One positive outcome was the ridiculously high miles per gallon I was achieving – just over 70 on the way up. Also, happily the traffic was light and although the sat nav tried hard to confuse in the last half mile, we were parked before 1.00pm.
My podcast assertions that Bradford with brackets were a jolly bunch was confirmed within minutes. The stewards teasing me for not using a car park though I simply hadn't spotted the entrance. Me, I'd just focussed in on the cobweb-strewn BBC Hereford and Worcester rocket ship and parked 3 cars up. There was a surprise at the turnstile as the manning man is a long-haired gardener and keen Bradfordian who'd I'd spoke to at some length at Edgar Street, and previously Brackley last season. Everyone we met was warm and pleasant, offering proper Northern hospitality. Their supporter facilities were fascinating, not least the extraordinary club shop. Not the first place I'd expect to pick up some very cheap 1960's WBA reserve programmes. "Where do I start?" I wailed.
Decent home prepared food served with queues starting at 1.30pm. No takers for their advertised ice lollies. A grimace in answer to my question.. "we just can't get that writing off…" The writing is on the wall apparently and is firmly staying there. The two real ales from local brewery Saltaire was also well received by us visitors, however there were a few eyebrows raised at Steve's request "to try the blonde at the far end of the bar…" Also in the bar was an intriguing scale model of the original Park Avenue ground, with its famous Dolls House design. I have an elderly chum who saw PA play a Second Division game in 1947. Despite promptings, his memory remains limited to the young girl serving in the local chip shop. Thus his visit in his autobiography which I re-wrote and published for him is 95% "creative."
The football book charity bookshelves caught the idea of the multi-layered ranks of the media team. Briefly, the scrum resembled the first day of Harrods Christmas sales. When the dust settled. Omnipresent Joanie Roberts pointed out there was a 1960's title on the shelves. I grabbed it straightaway, exclaiming on its rarity and wondering a quick re-sale would cover my costs for the day (a later check proved not to be the case). Chum Steve continued to rummage and surprisingly found a second copy of the 1966 Peter Morris title, a book too important in the West Midlands to be left in Yorkshire.
Bestowing goodies from his sack was Santa Reg Reynolds with his black and white headgear being widely appreciated. Cheekily, Reg tried to persuade a bald steward that he needed donated headgear but the suggestion was more than his job was worth.
All positives so far. The same cannot be said for the viewing position. Think Gateshead. Think Rotherham Don Valley. Running tracks and football grounds don't mix. Essentially, this is a one sided plus a couple-of-bits ground. The Council facility is located halfway up a hill and there is little protection for the players from the wind. In some ways, this venue felt a stepback to Step 5 days. As promised, there was no segregation so we just segregated ourselves. Supporters, volunteers and most of the Board sat together in a public display of unity. There was ample room for two seats each, important for some of our more well-built followers enduring Ryanair style legroom.
Rico's Roughnecks had a familiar look about them. Bruce Sicknote was presumably unfit once again (is Jonny Evans on overtime rates?) so only one change with the hirsute Josh Gowling replacing the dazed and confused Harvey Smith. "THE Josh Gowling?" piped up friend Steve. He, like me, had memories of young Josh in Albion reserves, often playing alongside Tamika Mkandawire. We'd seem them both line up against a 17 year old Wayne Rooney, playing for Everton reserves, in front of a 3,000 crowd. Josh is now 35. A long time ago. Now Gowling is in the team, he should stay, form permitting. Harvey Smith is not one of our own, however worthy his contribution.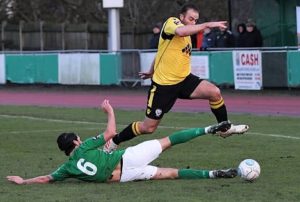 I found the first half dull. Creditable, well-organised and resilient also applied. But when you travel with a neutral, your perspective shifts a little bit. Despite their relegation spot, Hereford were the better team, creating more chances and yet I didn't see either team scoring.
The second half was livelier, helped enormously by some enthusiastic vocals from our travelling band. I'd like to say we were 100 strong but that may have been an exaggeration. The feeling of no goals persisted. Symo was impressive, flicking balls in all directions about all too many of them were not read. Likewise, the Bradford side, who had stepped up their efforts, were very well contained.
Until the goal. I can repeat that it's an enduring mystery of Richards reign that a senior, trusty keeper continues to pick splinters out of his posterior. Once behind, Bradford with brackets knew what to do to maintain their lead and go clear top of the Division. Not yet convinced about the penalty claim.
This was an unfortunate and avoidable defeat. With Southport and FC United picking up results, the pressure will continue to mount.
Simon Wright

Images courtesy of Bulls News Blog