The Hereford FC Community U18 side exited the FA Youth Cup at Edgar Street last night losing to Rushall Olympic, with all three goals arriving in the first half. Simon Wright was there for Talking Bull.
Hereford U18  0 – 3  Rushall Olympic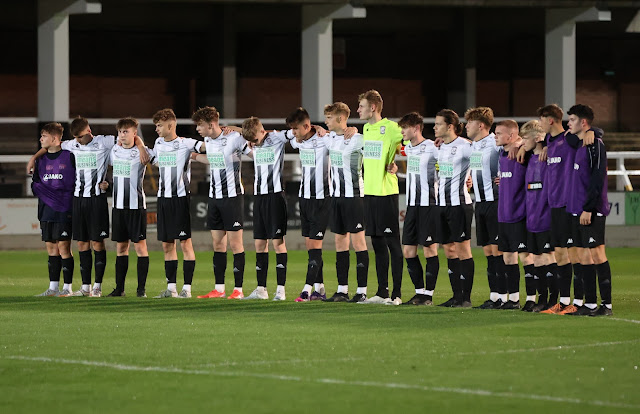 Another night, another broadcast and my second midnight return in two nights. The Radio Hereford crew had a very welcome guest talker, the genial Nick Allen, Vice Chair of Rushall Olympic FC. Nick was a terrific ambassador for his club. His dad John has managed or Chaired the Pics for nigh on 25 years.
This was a step too far. Our U18 squad have used 22 players in their 3.75 matches (including the Dudley abandonment), a unit assembled from many different component parts and do lack defensive cover. Rushall, by contrast are a settled, long-established outfit with a couple of genuinely talented attackers in Tyrese Hughes and Declan Riley. Bigger clubs will be sniffing around them soon. Only last week, a young Rushall defender was signed by WBA.
After the visiting squad had completed the "wide-eyed tourist with a camera" pre-match, routine I was hopeful the Street might be too much for them. Nope. Faced with a full-on high press, Hereford were forced into conceding after 80 seconds and the die was cast.
Riley banged in a hat trick after 1,14 and 22 minutes and really there was no way back after that. The young Bulls had all the play between the first and second goal (a penalty) but couldn't find the net. Strikers Mee and Johnston were unusually well contained. Charlie Jenkins came closest when his free kick struck the base of the post. In truth, our visitors could have scored more in the second half. Twice their hat trick man Riley had lost his marker but put his header over the bar.
Losing a couple more Hereford players to injury didn't help on what was a disappointing night for our U18s. They wanted to impress the decent and noisy gathering of well over 100 supporters tonight. Always impressive midfielder Cameron Davies was carrying a knock from Dudley Town and made an early exit. Full back Adam Lewis also retired hurt. The unfortunate Adam had done his best to contain winger Tyrese Hughes. Remember that name.
The U18s fielded the best side we could after injury, suspension and other commitments took their toll. This was the first time that 16 players could be named. Two new names on the bench – Sam Pepper who had 15 minutes – and Jacob Martin who didn't get on. I'm assuming their international clearance has just come through. We are only in our second season after reforming and its catch-up job mode on clubs who kept their youth teams intact during covid (ie all of them)
My fanciful hopes of an all-expenses paid trip to Jersey Bulls FC in a later round were properly dashed. The Community U18 still have the League and two other Cup competitions to focus on and can only improve, starting with video analysis of tonight's game. Most of them are 16 or younger thus we have them for at least two seasons.
Hereford: Atkinson, Thompson, Lewis, Morrish, Bennett, Samuel, Lund, Davies, Johnston, Groves, Mee. Subs Bell, Pepper, Jenkins, Not used Martin, Thomas
Images: Graham Goodwin