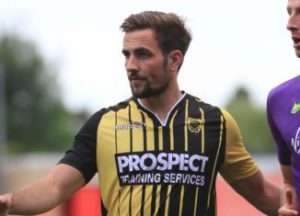 Following confirmation that Hereford have signed Lewis Hall from Gloucester City, we take a Talking Bull look at the players career to date through the eyes of fanzine co-editor Simon Wright.
Back in February 2013, local boy Lewis Hall signed pro for Bristol City at the age of 18. His proud Uncle Andy made sure that all the City forums were made aware. At the time, he was a left footed ball playing midfielder, full of the confidence of youth. No doubt his coaches would remind him, over and over that the odds of becoming established in the Robins first team were still depressingly long. But its hard. Failure happens to the other guy. Now officially old enough to drink and being paid to kick a ball and having to deal with the welter of congratulations is tough for any young man to stay focussed. Turning pro. meant the world to his parents who drove him everywhere and were always on the touchlines.
Two years later, Lewis was released. It was no consolation that virtually all his team mates also received the same grim news. His five years at Ashton Gate were over. He'd given his formative years to a football club. He had followed the coaches' orders. He had lived like an athlete, boring though it was, and gone out on loan to learn about men's football. …   As Bristol Red observed on a City Forum "it's a slippery slope and one that is hard to stop once you start sliding in the professional game. Before you know it, you can be playing Semi-pro on less than a £100 a game. "
There were hundreds of other young released hopefuls chasing a small number of professional contracts. Most had similar or even better CV's. Headline for Lewis was his loan period with Gloucester in the National League North, a "key part" according to the Tigers, setting up several goals, though his loan was cut short by injury. Lewis joined the bear garden of trials at several clubs, including League sides but didn't catch the eye. Time to bite the bullet and join the real world. Gloucester's manager Tim Harris made him an offer and the left winger signed in July 2015.
Playing part-time football on top of working full time was a shock for the Bristolian who struggled initially to make an impact. He started half the games in 2015-16, scoring 6 times, including a hat trick against Stalybridge Celtic as he became accustomed to the expectations. Tigers TV Interview   Hat trick footage
Being a natural "leftie", a flexible leftie at that, happy to operate at full back or further forward does help as demand for left-footers outstrips supply. Lewis became a key member of the Tigers squad, racking up 125 appearances in all and is still only 22.
The Bristolian seemed to have little trouble finding a proper job. He's worked for a FTSE350 Bristol-based techie recruitment agency for nearly 3 years. Halls well that ends well?
Personal appearance is an unspecified part of his day job which probably explains his immaculate hair and oh so carefully styled beard. Cue endless dressing room micky taking. Lewis speaks French which will be handy for Hereford's future European tours.
As Lewis explained to Jamie Griffiths for the official site "I know that Hereford are an ambitious club and that's why I've joined." The dream of being a professional footballer isn't yet dead for him. No doubts words in ears from Jamie Edge, Jack Deaman, Billy Murphy and Calvin Dinsley helped his decision making.
Welcome Lewis.