The Talking Bull 'Ground Guru' Simon Wright has already checked out what AFC Totton have to offer….
Back in May, the "Boss" and I had just landed in Southampton following a Norwegian Cruise. We needed to retur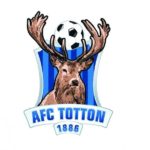 n home to sort out dirty washing and our resident fleabags but AFC Totton was on our way home. Well, more or less.
I introduced ourselves to a man emerging from the Club Offices and with the instinctive warmth that Non-League officials always offer to strangers, we were offered a guided tour. Our host was Ken Dunwell, an always in demand groundsman. "I used to travel away with the team" he admitted "but with 4 teams now playing on our pitch, there's just too much to do here."  We speculated how many Hereford supporters would travel, obviously not knowing we'd make our Step 4 debut here.
Ken understandably is proud of the Testwood Stadium, opened in 2011 for what was then an upwardly mobile AFC Totton, pushing for Conference South status. There is a suite of gleaming rooms within the stadium, all decorated with pictures of Totton's greatest days. Travelling to Wembley in the FA Vase Final and the live BBC FA Cup match with Bristol Rovers. Totton were beaten in both and nowadays thanks to financial woes, they are in Step 4, with a sub 300 average gate. They must look a little lost in this 3,000 capacity stadium. The obvious highlights are very modern terracing and stand on the club bar side of the ground. These will be most popular for travelling Bulls. Admission is the Division-standard of £9 adults but an adult and child combined pay £11.
The club bar looked a little small but Ken assured me the biggest function room, the Monarch Suite is opened for the bigger games. Seating for 120 here. There is a solitary bitter, a couple of lagers and an alleged cider from Suffolk in the Function Room. It's important to note that the new stadium is a typical out-of-towner, where the nearest alternative drink is half a mile away. This is a Whitbread house, the Testwood, in Salisbury Road towards the town centre. Their website is keen to shout about their food menu but info about beer is there none. A wider choice is on offer in Totton town centre, just over a mile distant straight down Salisbury Road.
One plus point is the landscaped car parking a la Loughborough. I imagine room for 200+ vehicles (including 6 spaces by the turnstiles for Disabled Supporters). Our Disabulls will glide serenely on the smooth surfaces around this complex.
Join Beadle's Barmy Army. You know it makes sense.
By Road 126 miles (S040 2RW) Similar route to Salisbury.  Usual A40/ A417/ A419 to M4. At J14, follow A338 / B400/ A4 to A34. After 26 miles enter M3 towards Southampton. At J13 move onto M27. At J2, take A326 then A36. Ground signposted on right.
By Rail: Masochists only. Needing to change at Newport and then Southampton Central plus a 1.5 mile walk means nearly five hours travel time one way. That's double the road journey.