Hereford have completed the signing of striker Reece Styche.
The 30-year old links up with the Bulls for an undisclosed fee after featuring for Darlington and then Alfreton Town last season. The Bulls Head of Football Tim Harris has been tracking his potential availability since arriving in the Hereford hot-seat.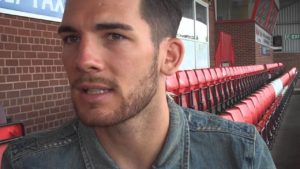 He has a wealth of experience having played for Forest Green Rovers, Kidderminster Harriers, Gateshead and Tamworth. He has also represented Gibraltar at international level. Styche scored 18 goals in 33 games for Darlington before moving to Alfreton in January.
It is understood both Darlington and Alfreton paid transfer fees of around £60,000 for his signature in the recent past.
His all action style should bolster the Bulls attacking threat with Hereford head coach Marc Richards delighted. "It's a really exciting signing. There was quite a bit of interest around him, as you can imagine for a player of his calibre. I think it shows our intent for next season and I'm really looking forward to unleashing him here and seeing him score some goals!"
"Reece has a real hunger to succeed and we're delighted that he has put pen-to-paper with us. I think he is a player who the fans will warm to quickly, he is someone who always gives 100%, who wears his heart on his sleeve and I am really looking forward to seeing his partnership with Rowan develop."
Speaking to the official website, Styche said that the history of the club played a big part in his signing: "It's a massive club with a massive fan base, it's one of the things I'm most looking forward to. With two and a half thousand fans here every week it's a Football League club in everything but it's standing.
"I'm looking forward to getting my head down and trying to get into the National League."
Images: Darlington FC & Kidderminster Harriers FC