The Bulls FA Cup run for the 2022/23 season ended with defeat at the hands of League One opponents Portsmouth at Edgar Street. However, the televised match has brought in much needed finance to bolster an ever seemingly disappearing bank balance.
We look back at the match against Pompey through the eyes of scorer Miles Storey and we see the return of Talking Bull's favourite contributor – Rob Purdie as he looks back at his career, plus a whole lot more packed into 48 pages.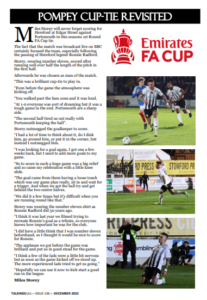 New season – New Talking Bull. The independent fanzine with revelations!
We ask such pertinent questions such as:
Can Hereford afford to sack the management team?
Which of the current Bulls' squad should be retained?
Is Football too accessible?
Will the Blackfriars Street end ever be developed?
Why are the Bulls getting so many injuries?
And are you missing Manchester?
Plus,
We remember the legendary Ronnie Radford.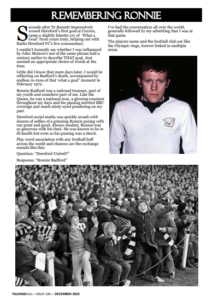 We welcome Callum Rowe back to Edgar Street.
We reveal when Hereford thrashed the FA Cup holders.
Simon Wright inexplicably insists plastic pitches are the way forward.
Should there have been VAR for the Bulls cup-tie with Portsmouth.
All this, and so much more, crammed into issue 136.
The cover price for this absolutely packed 48-page, full-colour edition remains at £3 despite ever-increasing publishing costs, so please grab yours before they run out!
Watch out (and listen out) for our fantastic volunteer team of sellers who will be outside Edgar Street from 1:30pm on Saturday ahead of the Bulls' National League North match against Darlington.
Alternatively you can buy a copy online via the Talking Bull store.
Talking Bull – Online Shop | Talking Bull
If you buy online a printed copy will be sent to you in pristine condition, but if you are happy to receive a copy electronically, which thus saves you postage and packing (and gives you the choice of reading the edition off-screen) you can purchase a copy at any time for just £2.99.
If you buy a digital copy you can even print the issue off at home.
All proceeds benefit Hereford FC through official match-sponsorship, or via the 'Boost the Budget' initiative.