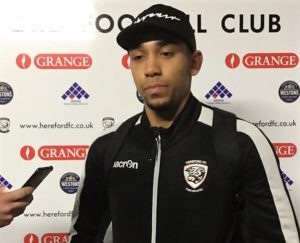 Hereford FC have confirmed defender Jordan Cullinane-Liburd has agreed a new deal to remain at Edgar Street for the upcoming 2019/20 Motorama National League North campaign.
Head of Football, Tim Harris, said: "We're pleased to have reached an agreement with Jordan for him to stay at Edgar Street next season. He was a key part of our defence last term and we're looking forward to him continuing to be an important figure in our squad next season."
The club are also set to announce the signing of two players this afternoon.
Tom Owen-Evans, Josh Gowling, Rowan Liburd, Kyle Finn and Keiran Thomas are already under contract for next season.
The experienced forward Mike Symons has also agreed to a new deal, with further offers made to Eliot Richards, and Tommy O'Sullivan. Keyon Reffell will be back at the club for pre-season training, but Lance Smith and Danny Greenslade need operations over the summer and so a decision on their futures will be made in due course.
Also invited back for training without contracted deals are Jahquil Hill, Brandon Powell, Adam Hockey and Theo Wharton.
The following players have been released; James Wesolowski, Joel Dielna, Cameron Ebbutt, Louis Ezewele and James Roberts, as well as loanees Matt Yates, James Waite and Jak Hickman, who have returned to their parent clubs. Harry Franklin has decided to leave in search of first-team football.

Images: Steve Niblett