In this additional feature for Talking Bull we look back affectionately at some of the music that has been played at Edgar Street via the PA Box over the years.
The release of Tubthumping by Chumbawamba coincided with the Bulls relegation from the Football League at the end of the 1996/97 season, and struck a chord with Hereford supporters who certainly knew the club had "got knocked down" but would indeed "get up again".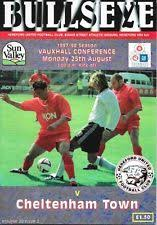 The single was first played over the PA system at Edgar Street on Bank Holiday Monday, 25th August as Hereford entertained Cheltenham Town in the GM Vauxhall Conference – the fourth game of the season.
Hereford had not had the best start to their inaugural Conference campaign, having lost 0-2 at home to Welling on the opening day, followed up by a 1-1 draw at Hednesford.
However, a 2-0 win at Farnborough with goals from Murray Fishlock and Neil Grayson had boosted the early season resolve among fans on the Saturday leading up to the match against near-neighbours Cheltenham.
Boss Graham Turner kept an unchanged starting line-up, and in front of an Edgar Street crowd of 3,704 won the clash 3-2, despite a late fightback from the visitors.
After Watkins had put the visitors ahead in the 12th minute a wonder strike from Neil Grayson levelled the match on the stroke of half-time after blasting home a shot from 30 yards.
Grayson added a second in the 65th minute before Ian Foster scored his first goal in 14 months to put the Bulls 3-1 up just after the hour-mark. Eaton grabbed an 82nd minute goal for the Robins, but Hereford held on for a much-needed home win, and moved up to 4th position in the table.
Hereford: MacKenzie, Rodgerson, Fishlock, Matthewson, Norton, Walker, Hargreaves, Agana, Grayson, McGorry, Mahon. Subs: Foster and Brough.
Cheltenham: Book, Duff, Victory, Banks, Freeman, Smith, Howells, Milton, Eaton, Watkins, Bloomer. Subs: Wright and Crisp.
Attendance: 3,704.
Result: Hereford won 3-2.
Upon its release, the song became an international hit. On the UK Singles Chart, it debuted at number 2 on the chart dated 23 August 1997; it spent three consecutive weeks at number 2, held off the top spot by Will Smith's Men in Black. The song spent a total of 11 consecutive weeks in the top 10, and 20 consecutive weeks on the top 100.
The song became a firm favourite among Hereford fans and was often played as the teams ran out onto the Edgar Street pitch – especially in the opening few years of the Bulls Conference era.