"Hereford heroes, we call our footballers and as for that Colin Addison, he's a blinking marvel.."
Hereford taxi driver talking to famed Mail journalist Brian Woolnough outside Edgar Street 1972.
Thus was the scene set. United were losing their full-time virginity. They would complete their first week as a Football League club by staging their first ever Division 4 home game against Reading on August 19, 1972.
Through their mammoth efforts, the Giantkillers had done much to earn themselves full-time deals. Inevitably for some it was a step too far. The London boys – Billy Meadows and Ricky George – would not relocate whereas Tony Gough had only recently -with relief – stepped away from the professional game and had no wish to return. Impressed with his speed and dancing feet, West Ham took away Dudley Tyler in exchange for a £25,000 cheque. They were all missed, especially the front men.
There were summer arrivals. Full back Tommy Naylor. Midfielder Clive Slattery. Strikers Ivan Hollett, Kenny Wallace and George Johnson. All bar Naylor were to make little impact around Edgar Street. Only the 24-year-old Johnston cost a fee (£3,000) which made very little dent in Addison's alleged £50,000 transfer budget. More spending was imminent – £7,000 plus monthly hairdressing bills for midfielder Harry Gregory who signed his contract immediately after the Reading game. If only Gregory and Josh Gowling could compare notes about aerial bushes…
Another newbie was an assistant manager to ease the burden on the multi-tasking gaffer. Former First Division player, John Barnwell secured his first off-field post after his enforced early retirement. Even though the defeat of Newcastle United was only 6 months earlier, gaffer Addison was right to talk of "Hereford starting a new era."
Reflecting on his managerial career so far, our manager was suitably bullish "People said I was mad to come here but it's the best thing that has ever happened to me." Much to his annoyance, "Addo" was suspended for the first two games so the Edgar Street fixture was his first chance to dictate play and kick opponents who strayed too close.
United's debut as a League club was a long slog to Colchester (see separate feature in Talking Bull Issue 135).
Five hundred Herefordians travelled to see a 1-0 defeat in heavy rain, though some didn't arrive until half time as their coach driver lost his way. "The coach trip seemed to last forever" recalled Glawsterbull. "Not helped by the driver losing his way and us heading toward Clacton, perhaps he preferred an afternoon on the beach?" The visitors curiously played a back five. Midweek was United's first participation in the Football League Cup and a tough gig at Villa Park. United were comfortably beaten 4-1.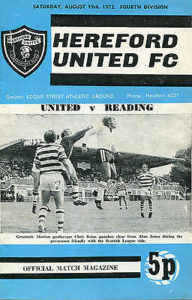 First visitors to the new boys were Reading FC, a decent team who went on finish 7th, missing promotion by a few points. Probably their stand out player for obvious reasons was goalkeeper Steve Victor Death (pronounced "De-Ath"). The strangely-sobriqued custodian was in the early stages of his 471 games for the Biscuitmen. Long term Bull Nigel Heins' strongest memory of the day was his ruminating about the travails of having such a name. The Berkshire club were managed by Charlie Hurley in his first and last job. Hurley's best remembered as a 1950/60's Sunderland defender for whom he was voted "player of the century."
Reading were to be just one of many Division 4 clubs visiting Edgar Street for the first time so were an unknown quantity. That brought an extra buzz as well as tension before those games. How would the Whites fare against opposition we had never seen before? Expectancy was high.
A "Reading Away" football special ran to Hereford, picking up at Newbury and Reading at a cost of £1.25 per adult ticket. At least one visitor left his mark, adding Reading FC graffiti on a wall by the boys high School further along Blackfriars Street. The messaging remained visible for years.
Among the seated away support that day was Andrew aka "Stourbridge Bull." Andrew was Reading born and thought he ought to support his home club even though he'd relocated. (Fortunately, he quickly learnt that supporting Hereford was far more fun and never used the away end again.)
Such was the wider interest, the Birmingham Post sent reporter John Wragg to cover the game. There would be features in the famous Sports Argus (the Saturday night 'pink' sold in Hereford), the Sunday Mercury and Monday's edition of the Birmingham Post. Several national titles were thought to have sent a representative.
With the Edgar Street terrace closed for building work on the Len Weston stand, space elsewhere was hard to find for the wildly enthusiastic crowd of 8,839. Some spilled onto the pitch. United made a decision to allow some fans onto the closed side terrace to ease the crush including Roger Grosvenor. His lasting memory to this day is 'Standing on a building site." Unwittingly near Roger was John Pope "standing on mounds of earth where the footings were going in for the new stand." John recalls both home and away supporters nearby including "a group of Reading lads with one of their number wearing a butchers coat with 'Charlie Hurley's Blue and White Army' on the back.
Roger Shipman best remembers his walk to the Street, the same route every time. Easy to picture half a century later on with our feted continuity. "I walked from home, with my 'Uncle' Fred Baggott (who wasn't my uncle, of course), down St Guthlac St. Then past the hospital and paused at Joe Wades (to play "baggsy that" looking in the window especially the throwing knives). Then across the road. through the burial ground, down past the girls' school and then the boys' high school. Got there early like every week. "
Paul Mewles: "I had been going to Edgar Street since the late 50's but, apart from FA cup matches, had never seen anything like it. For Reading, I remember the walk from my Mum's house. As soon as I stepped onto Barr's court Road, I joined a throng of people going to the match. As I got nearer to the ground, the crowds grew thicker coming from every part of the city, and further afield. Many of the spectators were clearly new to the Street."
The curious "cowshed" terrace (where Block A now stands) was an acquired taste but it was well populated that day. Long term fan Paul Howells stood there for the only time in his life. Close by was Gareth Watkins. The difficulty for young supporters was finding a way where they could see the action. The Meadow End had wide terrace steps two persons deep and was not a place an 11-year-old could see from. Thus, young Gareth was perched on a plank atop two upturned wheelbarrows close to the floodlight pylon. Only in Hereford.
The city-wide excitement had drawn in new support such as Brian Cripps, savouring his full season of watching United from the Meadow End and a bright-eyed 6-year-old Reg Reynolds. Everyone attending was given a commemorative first day envelope, now prized among senior supporters.
13-year-old Craig Macrae was also making his first team debut. Resplendent in a replica Hereford United shirt bought earlier that day, he walked to the ground with his father from his grandads' house in St Guthlic Street. Craig's uncle, Bob Powell was a Superintendent in the Specials (part-time Police) and on duty that day. Bob was well known as the time and was immortalised on the video of Ronnie Radford's goal, trying his best to prevent the crowd invasion.
When strolling through the cattle market, Craig and his dad were followed by a group of 20-30 lads. As young Craig looked back at them, a group member fired a missile from a catapult and broke a window, a first taste of 1970s hooliganism for the teenager. Macrae senior and Junior stood on the Hogs Mount at the Blackfriars End (corner of Edgar Street and Blackfriars). They were probably completely aware that another well-known fan Anthony Herbert was standing close by.
Young Dave Witt will never forget his afternoon. Outside the Blackfriars End, "minding his own business", he was attacked and bitten by a Police dog. Suddenly, a tetanus jab was more important than the match.
Halesowen Bull: "I stood on the Blackfriars terrace in the home supporters' section. I was just 22 years old. I had supported the Bulls for 12 years or more but this was something special, we were amongst the big boys in football. I will never forget the vocal support that day. It was terrific."
Nigel Heins also recalled the backing for United. "I enjoyed pre-match pints in those days at the Moorfields Inn served by Bert or Joan Evans. As soon as you left the pub you would hear the Meadow-enders in full voice."
The Nottingham family were nearby as Mark Nottingham explained: "I remember it well as it was my 10th birthday. I insisted that my family all came to the game, it was the perfect trip out for my birthday so for the first and only time, both my mother and sister came to a game. We went to the Blackfriars end. As we were young, my sister and I were allowed to sit at the front with my parents not too far behind. It was a bright sunny day and I could not believe that the programme said that Hereford were in the Football League!
We had low expectations so were stunned at comfortably we played in the 3-0 win. The Blackfriars end was where most of the Reading fans were and we were towards the Len Weston side. My mother was struck by some of the banter. Reading fans were saying "Come on the Biscuitmen" and similar vocal support highlighting the key role of Huntley and Palmer fig rolls and the like in Berkshire."
Among the music selection that day were two highly topical singles, having charted the previous year. One of them was US No 1 as recently as February 1972.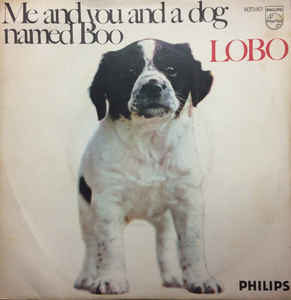 "Me and you and a dog named Boo
Travellin' and livin' off the land.."
And
"Long long time ago, I can still remember
How that music used to make me smile
And I knew if I had my chance
That I could make those people dance
And maybe they'd be happy for a while.."
The good old boys invariably sighed and mumbled to each other, "not this modern stuff again."
Addison was determined to lead his side out for the big game even though he was suffering from flu. He ignored medical advice and took a tot of brandy pre-match and at half-time as a "pick-me-up." The Gaffer was setting the example. As he told famous journalist Brian Woolnough "We are prepared to get our heads down and fight for success. I know the fans will still be celebrating in the local this time next year." The Hereford manager chose Potter, Mallender, Jones, McLaughlin, Naylor, Wallace, Addison, Radford, Slattery, Hollett, Johnston. Sub Owen
United's first success came in the 27th minute. Wallace scored United's first ever Football League goal, with a far-post header from George Johnston's free kick. Jeremy Wilding's picture shows the happy Hereford players heading back for the kick off, just moments after making history. Less than fifteen minutes later, the flu-stricken Addison rolled back the years, re-living his top flight scoring days, when his header neatly finished off a cross from Slattery. Fitting that a Giantkiller got his name on the scoresheet.
The visitors did have their moments. Potter was caught handling outside the penalty box. In those days, the offence did not merit a dismissal and happily the visitors conspired to put the resulting free kick over the bar. Later, a shockingly short George Johnston back pass forced Potter to tip away a shot from 25 yards out. What Addison made of these lapses are not recorded in public.
Fortunately, with five minutes to go, the game was wrapped up. Sub Brian Owen set up Ivan Hollett in the 85th minute to score the final goal in Hereford's 3-0 comfortable win. It was to be Hollett's best moment in a Hereford shirt. "It looked a comfortable win but didn't feel like it at the time" opined Halesowen Bull.
Mark Nottingham: "After Hereford's third goal, a Bulls fan with a strong Herefordshire accent said. 'Biscuits are no good when you're up against Herefordshire beef!' Maybe this was the start of the nickname fading and Reading becoming known as the Royals."
Football League Secretary Alan Hardaker attended the game and was asked for his observations. "I think Hereford will do very well in the League. They've got a very good set-up, a nice ground and excellent support. If they play like they did today, they should have no problems." He was right.
Finally, spare a thought for those who didn't get to the Street that day. Such as Richard Tomkins in holiday in Bodnant Gardens. His involvement was limited to waiting for the result on the radio.
David Price laments "Unbelievably, I missed the first game because my parents took me on holiday. I did see every other home game but it wasn't the same." Every sympathy with you David. Because I as the compiler of this piece, was in the same boat (or resort.) My parents had to choose that week. Not the week before. Not the week after. That week.
A 12-year-old Simon Wright sat mournfully on a Devon beach and would not be diverted by regular ice cream.
Half a century on, the family inquest continues.
Simon Wright