Following victory over Southport, the Bulls under interim manager Yan Klukowski secured a hard earned point against an obdurate Alfreton at Edgar Street on Saturday. Next Saturday's opponents Curzon Ashton will no doubt provide a totally different set of challenges, and are expected to play a far more open and expansive game.
How do you fancy 4 doubles?
Curzon  Ashton
Timing is very important in National League North.  Catch a club having an injury or form crisis and your chances of victory are greatly enhanced.  Witness Hereford travelling to Farsley missing nearly half a team. Or road-weary Southport in their fifth road trip in just 17 days.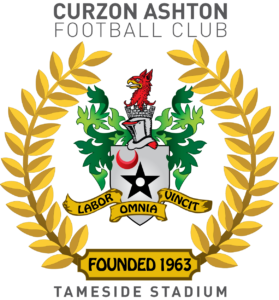 When we visited Tameside, the Curzon manager was picking from just 15 active players (plus 2 bench fillers) and two of them were injured.  Their top striker Wearing was filling in at centre half while a central midfielder was a makeshift left-back.  No doubt our analytics guys spotted the same opportunity, hence Ty Barnett in yards of space on the right and scoring after just 6 minutes.  Once ahead, we were generally comfortable and added two more goals. Curzon gave a 19-year-old his debut off the bench in the second half because they had nobody else.
Exploiting gaps, players out of position, copious injuries, raw youngsters chucked in – just so National League North, isn't it?    The difference is expectation – Hereford are supposed to have the resources to cope while Curzon just have to find a way whatever way they can. Defeat to the Bulls started a run of Curzon not scoring in 8 of the next 9 games.
That the Nash can comfortably manage to stay in our League – this is their eighth year – is remarkable.  They don't play a long ball, their pitch is excellent and they are not known for Leamington-esque defensive walls.   And yet at the risk of upsetting a certain club owner, manager Adam Lakeland joined from Farsley and stated that in his opinion that Curzon were a bigger club with more potential.
Curzon are almost giving tickets away to locals but still so few are willing to turn up. Their average turnout is 366, the lowest at our level, so we're not going to see many visitors at the Street.  A shame as the welcome is warm at a well-appointed ground.  They are run as a co-operative with 108 shareholders and are another club with their key data accessible to all.
The Nash's last accounts showed a player wage and expenses total of £154,000.   That instinctively feels very low though we don't have the equivalent figure for every club.  We do know Chester's playing budget is over four times higher.  Curzon's big earners are a 4G training pitch which bought in £72,000 in hire fees.  Their on-site café takes in almost £1,000, every week of the year.   Without that key income, they simply wouldn't be in Step 2. They make the most of what they do get and have broken even over the last 3 years.
The manager Adam Lakeland prefers to pick up cheap players from other local clubs rather than grow his own, which used to be the Curzon way.  That's sad but possibly necessary as any young players who made an impact in the Curzon first team jumped ship to rivals who paid more.
Lakeland picked up 3 long-serving players from Altrincham who left when Alty turned full time.  The stand out man is chunky midfielder Josh Hancock who takes all the set pieces and penalties and thus has a decent 9 goals this season.  Also up and running from Alty is hard-working striker Tom Peers. He covers more ground than Jeremy our famed 50-50 seller and has 11 goals to his name.  A very recent signing is striker Jimmy Spencer from Farsley.  We have previously highlighted Farsley's financial woes.  Three different Celtic fans told me the same story that Farsley haven't paid their players and so their senior striker walked out rather than play against Hereford.  Predictably, he scored in both his first two games.
Up to the night of the HFC v Southport game, Curzon had only picked up one point in 18 on the road. Then surprisingly, they beat the Alfreton rearguard twice and won 2-1 in Derbyshire.  They do have 4 away victories to their name, but only one since October.    The Nash have only visited the Street twice previously managing a win and a draw. Seems only right to add a defeat to complete the set.
See you at Edgar Street?
Simon Wright