The latest edition of Talking Bull, the Independent Hereford Football Club Supporters' Magazine, is OUT NOW!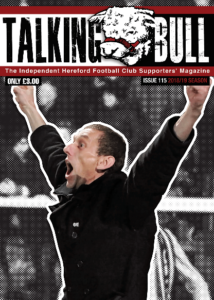 GET IN!  The latest issue of Talking Bull will go on sale outside the stadium for the first time this Saturday, 5th January 2019, ahead of the home Vanarama National League North match against Chorley so look out, and listen out, for our volunteer sales team outside the ground this weekend.
Initial supplies have been placed in our Herefordshire retail stockists at Club Sport, South Street, Leominster and copies will also available for purchase from the Hereford Club Shop, Edgar Street from Saturday afternoon. 
This is a limited edition issue of Talking Bull, the Independent Hereford Football Club Supporters' Magazine, and so when they're gone – they're gone!
Issue 115 is another bumper 48-page edition packed solid with content, as we take a look at new signing Theo Wharton, consider what life is like at Edgar Street after Beadle, and wonder what has happened to John Mills? We ask why some shareholders want to sever any links with Hereford United whom they regard as a "toxic brand". In changing shapes we look at the different systems and formations under Head Coach Marc Richards and wonder just who would be a Bulls Manager? This issue contains programme seller confessions, our jovial agony expert Uncle Rob, plus our Top 5 Boxing Day games, and we get kicks from the A4103. We've our usual in depth study of upcoming away days with both Ground and Good Pub Guides, plus much, much more.
We also bring you the best from our plethora of contributors; with more new writers making their Talking Bull debut!
This issue of Talking Bull retails at the normal price of £3, but if you are unable to visit Edgar Street or watch Hereford 'away' games when the fanzine is often on sale, why not consider subscribing.
You can even purchase this edition of Talking Bull on-line, just follow the links within our on-line store.
Subscriptions are on an eight-issue cycle, and you are reminded ahead the final date of this period, thereby ensuring you don't miss a copy of Talking Bull, the best fanzine in Non-League football.
Subscriptions are available NOW via our online shop Click below to subscribe, or order the latest edition of Talking Bull
Talking Bull – New Issue – BUY NOW