Here at Talking Bull we are continuing to build up our archive which details the careers of former Hereford heroes. This time we cast our eye over an ex-player who will be endeavouring to reach the Premier League as a manager this weekend.
HEREFORD HERO.
DEAN SMITH.
Record transfer signings are not always as successful as managers would have you believe. However, when Hereford paid Walsall £80,000 for centre-half Dean Smith in the summer of 1994 the Bulls landed a natural captain and leader on the field, a terrific organiser, and a thoroughly committed player.
Much of the funds had come from a sell-on clause contained in a deal which had taken Darren Peacock from Edgar Street to Queens Park Rangers for £200,000 in 1990. Hereford bagged another £245,000 when Kevin Keegan took Peacock to Newcastle. Whether Greg Downs invested wisely in his other purchases that summer is perhaps an argument for another day!
Dean (born 19 March 1971) grew up in Great Barr, Birmingham but, despite playing football locally, his potential was initially spotted by Newcastle United who offered him schoolboy terms at the age of 15. Being in digs at Whitley Bay, and not seeing his family for months on end, helped Dean grow up quickly, but his confidence was shattered when the Tyneside club decided to focus on home grown players and he was released.
Back in the Midlands the teenage Smith had a couple of unsuccessful trials and upon leaving school got a job with a powder paint company in Aston. Smith recalls, "I was there only a couple of months and it probably helped my fitness, because I used to cycle there and back. It was shift work and I think it taught me you have to work hard to get anything in this life".
"I fancied myself as a midfielder but Walsall gave me a trial at centre-back. The next thing I knew I was being offered a scholarship and my earnings went from £19 a week to £27.50!"
"Deano" made his Saddlers first team breakthrough in 1989, but the club suffered relegation from the Third Division under John Barnwell. They then struggled in the basement under new manager Kenny Hibbitt prior to a play-off finish in the 1992/93 campaign, but were beaten by Crewe at the semi-final stage. Walsall finished 10th in the following season and Smith joined Hereford after featuring in 166 matches, scoring twice.
Smith revealed "I was happy at Walsall. I was captain of the club, living at home, but I then went to speak to Hereford who offered me an unbelievable deal. I was still umming and ahhing but I was told if I didn't leave Walsall the Saddlers might go bust!"
A Coca-Cola Cup win at the Hawthorns over West Bromwich Albion – Steve White scoring after a goalless draw at Edgar Street – was an early Hereford highlight, but with the season just one month old, Downs quit by mutual agreement and his assistant John Layton took over.
Smith shone in a struggling side, even becoming the nominated penalty-taker after an appalling miss by Nicky Cross at Chesterfield. Indeed, Smith was to score twice on his 24th birthday against Scarborough in a 2-1 home win. The first, a spot-kick after Gareth Davies had been brought down, and the second a bullet header from a corner.
However, it was the following season when Hereford fans were to see the best of Dean Smith as Graham Turner secured the managerial reins at Edgar Street. Turner had been a very similar style of defender during his playing days and was quick to make Smith captain.
Hereford went on to produce their best season since 1984, making the Third Division play-off's despite languishing in 18th place in mid-February. Smith provided the heart of the Bulls defence with the consistency and reliability it needed as John Brough, Tony James, Steve Blatherwick and Stuart Watkiss were all called upon alongside him at some stage.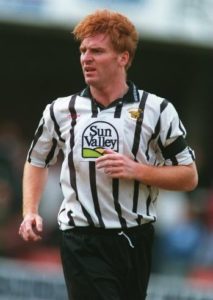 The Bulls chalked up 21 clean sheets in all competitions that term, and reached the FA Cup 3rd Round after beating Stevenage Borough and Sutton United, before bowing out to Tottenham at White Hart Lane in a replay. A major disappointment "Deano" had during his time at Edgar Street arose in the opening clash with Spurs as he blazed a penalty over the cross-bar. Had that gone in, another famous giant-killing tale could well have entered the record books.
Smith chalked up 46 appearances in the 1995/96 season and was second top scorer, behind 32 goal machine Steve White, hitting the back of the net on 9 occasions. However, promotion eluded Hereford against Darlington over the two-legged play-off, with the Bulls going down 4-2 on aggregate despite Smith having put his side in front as early as the 2nd minute of the Edgar Street opener!
The last season of the defender's time at Edgar Street was a disaster. Not for Smith, who once again was a virtual ever-present featuring in 47 games, but for Hereford who were relegated from the Football League on the last day of the season, despite being in the top half of the table in October. The Bulls had to beat Brighton on the final day, and could only draw one-each. Looking back objectively the record books show it was not the Hereford defence that ultimately cost the Bulls their league status, but a paucity of goals at the other end. Smith was second top-scorer with 10 goals, just seven less than striker Adrian Foster. Indeed, the Bulls remain the only club to have been relegated on "goals scored". The rule only lasted one season!
Leyton Orient looked to capture Smith but refused to get anywhere near the Bulls £200,000 asking fee, and took the move to a League Tribunal – the first following the introduction of the Bosman ruling. Graham Turner's comments following the £42,500 settlement tells the story:
"I'm staggered and gob-smacked. This is going to send shock waves through football".
 In six years with Orient Smith made 309 appearances, before earning a move to First Division Sheffield Wednesday in 2003. After a season with the Owls he linked up with Martin Foyle's Port Vale, retiring in January 2005. Overall, he scored 54 goals in 566 league games in a 16-year career.
In July 2009 he was appointed Head of Youth at Walsall, before taking the managerial reins in January 2011 with Richard O'Kelly, securing the Saddlers league status after they had been threatened by the drop. Nicknamed the "Ginger Mourinho" he next took Walsall to the final of the League Trophy before moving to Championship side Brentford in November 2015.
Brentford finished 9th in his first season, selling Toumani Diagouraga and James Tarkowski for fees totalling £3.6M. During his spell at Griffin Park, Smith built teams based around a pacy, passing style despite limited budgets and were often described as "the Championship entertainers".
Smith was appointed manager of Aston Villa on 10 October 2018, alongside Richard O'Kelly and John Terry, and triggered a late season revival with the club reaching the Championship play-off final after defeating West Bromwich Albion on penalties.
Smith will be in the dug-out this weekend as Villa take on Derby County at Wembley Stadium. Will we see an ex-Hereford favourite managing a team in the Premier League?
By Keith Hall