On the BRAKES
Simon Wright reluctantly gets up close to Leamington FC
This summer a Warwickshire-based acquaintance, who allegedly supports Leamington, spotted that Leam had a friendly at Halesowen Town. He asked if I was free for a pre-match match drink. One drink turned out to be several and I ended up being individually introduced to the entire Leamington support. Beards and a glazed look seemed mandatory among them. I even joined them for the game which was an utterly tedious 0-1. (Obviously because Jack Holmes had the day off).
Being emboldened after several Butty Bachs, I cited the elephant in the room and asked, "Why is your team so boring?" In fairness, the visiting crew took the question well and did offer some sensible answers.
'Let's swap budgets with your manager and see how he gets on." Said one. Fair enough though these days the Brakes' balance sheet looks better than ours thanks to a recent share issue.
"We don't look forward to Hereford v Leamington games any more than you do" replied another. "We play better against other clubs."
You would hope so. Though infamously every time Leamington play Kettering, at least one player is sent off. Leamington have much in common with Kettering, Alfreton and Southport.
We've met the men from Warwickshire in 8 mainly turgid League affairs. Five draws, 2 Hereford victories and a solitary three pointers for the Brakes (2019. Edgar Street). Total goals Hereford 9 Leamington 6 says much. Curiously, the Leamington FC u23s were a goal machine last term. They won 26 of the 29 matches last season, scoring 128 goals along the way. It's a shame none of this joie de vivre is shared with the moribund first team.
The 21-22 yawn fest at the Street pulled in the lowest gate of last season. Officially 1,179 though many observers thought the manual counting that day was incomplete. Being a 22/23 midweek fixture during a long run of Saturday home games, there's a chance of a repeat as some fans simply can't get to midweek matches.
Leamington demolished Farsley 4-0 on the opening day in a frenzy of goals. Just how bad were Farsley? Since then, they've resorted to more yawn-inducing binary football with no clubs allowed to score more than once. On the road, they are familiarly obdurate. No goals at Kidderminster plus one-one draws at Buxton and Kings Lynn and a predictable 0-1 at meeting of minds Southport. Their granite clones in defence have kept out most opposition, leaving the Brakes in an early season impressive-looking Play-Off position. This surely won't last. The Warwickshire inevitably bounce around the bottom half of our division. It's the law.
It's ironic that with Mooney out with injury until Christmas, their supporters were concerned that their side lacked a goal scorer. Danny Turner scored a hat trick on the opening day and was joint top scorer in the Division early doors. Carry on like that and he will be gone in January.
Otherwise, the raw-boned Captain James Edwards is the best-known visitor. During the 1-1 draw at the Street last season, he scored in the first half. Luke Haines will not forget what happened next. In the words of Son of Eric from Bulls News "He was assaulted and knocked unconscious by Leamington captain Jack Edwards."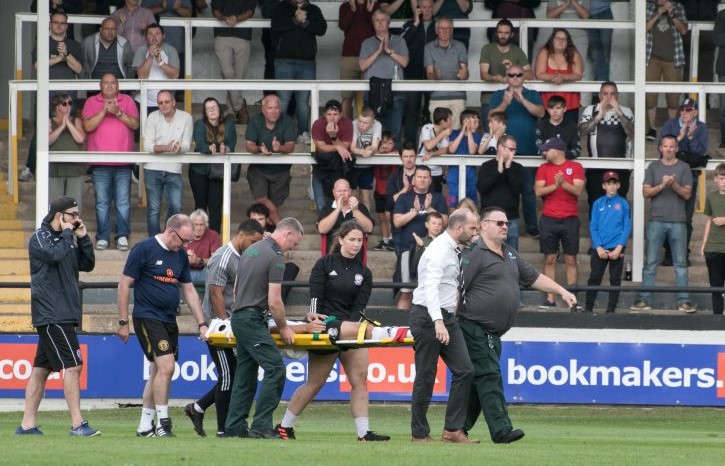 The other side of the story was provided by Jack Edwards' mother who surprisingly was sat just behind your scribe in B Block. She was adamant the incident was an accident and Edwards was genuinely concerned because he'd been previously knocked out himself on the pitch. The 6-foot-4 midfielder was booked that day, one of a dozen yellow and one red card last term.
Edwards is part of a footballing dynasty. His dad played for Coventry Sphinx where, by his own admission "he used to hurt people" and his grandad turned out for Coventry City FC in steel toe capped boots. Not that I'm making any links here…
Apart from the crocked Kelsey Mooney, there's another ex -Bull in midfielder Simeon Maye. After missing most of last season due to injury, he's started the season as a regular.
Manager Paul Holleran took charge in November 2009 and with around 620 games behind him, is one of the longest-serving managers in the game. No hope of imminent retirement sadly – he's only 51. On top of that, his club's (I suppose) enviable record of securing 1-0 home wins have the Brakes in nose-bleed territory. Albeit they are out of the FA Cup to a lower division side. (0-1 of course) He ain't going nowhere.
Hereford v Leamington Tuesday September 27th 2022.
Don't expect free-flowing football.