Hereford progressed through to the FA Cup 3rd Qualifying Round following their 5-2 success over Truro City at Edgar Street and now re-focus on the Vanarama National League North with another home match against Kettering Town.
The newly promoted side have not had a successful start to life in the division and currently lie third from bottom having gained just 8 points from eleven matches played. The Bulls remain three points off the play-off positions but have a game in hand on their rivals.
Kettering drew 1-1 at home to Sutton Coldfield Town in the FA Cup today, and will face a replay this week ahead of the match against the Bulls.
Simon Wright looks ahead to the Edgar Street clash next Saturday.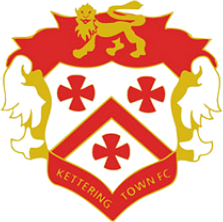 Kettering Town FC
Hereford lifted a trophy after our previous game against Kettering. Or tried to anyway because the Southern League Shield is very old and very heavy.   Just 17 months ago, this final home Step 3 fixture famously marked Rob Purdie's Edgar Street swansong in front of a 4,556 crowd, including 179 visitors. And so many other names to treasure in the Bulls team that afternoon. Goalscoring defender Dara O'Shea, for instance. I still see Dara occasionally, running up and down the Hawthorns touchline in front of me, still waiting for a chance to show his talents. Then there was penalty scorer Lance Smith, who, due to injury, isn't running anywhere right now. And Jimmy Oates, probably not running much either as he's exiled in Canada and out of the game altogether. Not forgetting Pablo Haysham, who came on when Purdie performed the slowest substitution ever. Sadly, our favourite man from Madrid is also in the shadows because he hasn't played once this season for Banbury. I miss these guys and football misses their contribution.
Under a year and a half later and our footballing world is a far more serious place. Both sides have changed management and most of their playing staff in the hope of maintaining further upward momentum.
The then Kettering manager Marcus Law probably encouraged his squad to remember what it felt like to be unwanted guests at a Step 3 promotion bash. Suitably abashed twelve months later, the Poppies duly took centre stage in their own Champions ball. Their supporters caroused long and lustily in Radio Hereford's favourite recording studio aka the King Edward pub in Halesowen. A 1-0 win on the other side of the fence at the home of Halesowen Town was enough to make the Shield their property for a year. Victory at the Yeltz was their 16th away in the League, a club record.
Shortly after, Marcus Law resigned for reasons apparently personal after four years in charge. In came Town manger no 68, Nicky Eaden. Hereford supporters may remember him starting last season as full-time manager of Nuneaton Borough only to give up in disgust. Eaden made 700 appearances as a player, mainly for Barnsley, though Kettering was his final club. His return as Poppies Head is his fourth managerial role. He holds the UEFA Pro Licence while his predecessor only had the B licence. Kettering has had some big names in charge of their club. Such as Ron Atkinson, Derek Dougan, Alan Buckley, Paul Gascoigne and John Beck not forgetting Herbert Dainty. In truth, probably everyone has forgotten Herbert's single season (1931-32) and I mention him only because of his charming name. Sounds like the sort of decent chap who'd take tea at the vicarage on a Sunday.
There may be one familiar face in the visiting ranks. Mike McGrath joined the Poppies recently and made a notable introduction by scoring for both teams on his debut at Southport in the space of just 7 minutes. Who knew he was a goalscorer? Macca is 34 now and its rather hard to imagine him taking tea at the vicarage. He has already tried his luck at every local club with unsuccessful trial with Stourbridge over the summer after turning out for Alvechurch, Bromsgrove, Redditch and Evesham last season. He's become one of those players who never stays anywhere for long, the new Aaron Birch if you like. Still, his latest manager was impressed. "He's a man. And he can play a bit.." enthused Nicky Eaden on Poppies TV. And curiously playing in central defence too.
The always likeable Luke Graham also works for Kettering. He is Business development manager at Future Lions developing their post 16 educational programmes and other key roles including head of academy at Kettering Town FC. Future Lions is the pet project of club owners Ritchie Jeune, a sort of worldwide Youth Academy. Luke is now very well qualified. He has a UEFA A Licence, he's a Qualified lecturer and has also secured an honours degree in sports writing. On top of all that, he's still registered as a player and regularly warms the bench. According to his team-mate Paul White "rumour has it that his Mrs reads the FA Level 1 and Level 2 coaching book every night before bedtime."
Just like the previous Step 3 Champions (us), promotion led to major changes in the squad with only 8 of the title-winning squad remaining. I suspect that the Poppies are shopping at Aldi rather than Waitrose. The last accounts showed a business with no assets at all and a £300,000 debt, a business clearly 100% dependent on its owner for existence. The football club has had considerable outlay to make their Bedouin village barely fit for Step 2. They are now the primary tenant and have exclusive use of the clubhouse which helps with revenue but not significantly so. On top of that, Poppies TV can no longer charge for live transmission at this level. Despite these limitations, Jeune has shared his plan to make Latimer Park a multi sports arena with a 3G pitch and a 6,500-capacity stadium while also building a new home ground back in Kettering. I imagine the residents in Burton Latimer are thrilled by that prospect. Why that big a capacity is unclear. They currently average around 800..
Kettering's senior pro by a massive margin is PE Teacher Brett Solkhon (37) with over 500 appearances for the Poppies and still racking them up. Even though he's primarily a defender, Brett has scored 98 goals which makes him 12th highest scorer in club history. He has a reputation of being the tightest bloke in the club and is rumoured to have a £2 daily spending allowance limit. He also requires a full body massage every single game, another source of much mickey-taking.
Another local favourite is 33-year-old midfielder Marcus Kelly, who is enjoying his second spell with his home-town club. He was a regular for Wrexham two seasons ago and Forest Green Rovers for 4 terms before that. Overall, he's racked up nearly 500 games. According to his team-mates "he's cooler than a penguin on ice."
The Kettering website indicates a core of very senior players, with 10 of them aged 49. I initially thought this was an error until I checked out their early results which are pretty much in line with such an elderly team. Beating Altrincham on the day our colours were lowered at Guiseley was the Poppies first win in ten games.
On the road, in stark contrast to last season. Kettering have already lost to Kings Lynn, Darlington and Leamington before grabbing a point at Southport. Their League position looks pretty vulnerable and so expect a certain level of desperation when they visit the Street.
During our last encounter, we harvested the Poppies in a 15 minute blitz. Something similar would be so welcome.
Simon Wright