Hereford progressed through safely to the FA Cup 3rd Qualifying Round with victory over Truro City at Edgar Street yesterday. But how much of this was down to the fans input, rather than the players?
Simon Wright takes a sideways look at the events unfolding before him as Hereford beat Truro 5-2…
Supporters Make the Difference (Or got away with it, Part 2)
Truly our club is influenced by supporters. Influenced in ways not normally considered. Even if said supporters are increasingly sober, thanks to the volume of closed club bars.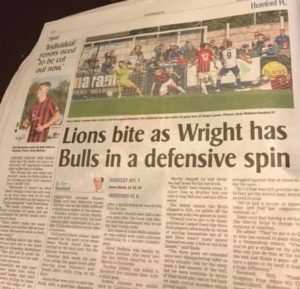 I'm astonished that my premature incautious remark in B Block today "that's the FA Cup gone…" was the catalyst for turning around a game already seemingly lost. Admittedly, our Gaffer claimed a bit of credit for himself later. That's probably fair yet if I, rather than goalscorer Aaron Martin, was to blame for the defeat at Guiseley then fair dos the Cup victory ought to be all my doing. I was more resigned than critical in Yorkshire and left before the end, so heaven knows what I was supposed to have said. Am I being bugged by the Hereford Times?
Since then, it's been a pleasing time to be a Bull. There was the evening daylight robbery of 3 points against Gateshead on Tuesday, a highly pleasing 4-1 triumph for our Academy side in the FA Youth Cup plus todays goal laden FA Cup match. Three trips to the Shire in 5 days is hard work for me but with hindsight, I'm pleased I extended my familiarity with every bend and dip on the Hereford to Worcester road. Today's other score was Tractors 9 Roadworks 1. (I need distractions from the overfamiliar).
The Boss was persuaded to join me today. We arrived at around noon to do our bit to increase tourist spending in the Shire. As she made adjustments to her "scoot" outside the ticket office, the Boss managed to leave her walking stick behind so thanks to Tony T, Martin B et al who all played a part in getting said stick back to its owner. Despite my early arrival, I was astonished by the volume of volunteers already on duty. Honestly, I've seen less activity and fewer people outside a Premier League game 3 hours before kick-off. Respect, guys and girls.
The Boss went on to compress our living space a little more by boosting Waterstones profits a little more. On certain nights, I swear I hear upstairs joists complaining under the strain of more paper.
Anyway, thought we'd better visit Addisons while it was actually open before filing into the main stand and deciding which row we'd each take as our own. Yep, Truro's intransigence didn't help our attendance today. I don't really blame them as (say) a third off tickets wouldn't guarantee a third more attendance. The pricing felt steep for FA Cup Second Qualifying Round fayre. The bill was £30 combined for the Boss and I. (We attended a First Qualifying Round as neutrals and paid a total of £10.) Frankly, for anyone other than Hereford, I would just not bother. (Before you ask, the other club I watch always drops prices for early Cup games).
Ah Truro. Not sure I agreed with Slade's assessment that they were a "technical" side. For me, the visitors played a very direct game, with lots of punts aimed at their front men. That our defence were distressed by this tactic is alarming. I hesitate to say changes might be needed as to be honest, there's been too much change this season already. Three different people picking the team and we're only in September? Yet we can't continue to push our luck. The Cornish side were inches away from having the game safe by half-time. Partly desperate interceptions, partly not-quite-good enough finishing. Our gifted penalty was just that, an act of generosity during a half of few genuine chances.
Slade made two substitutions and as we know to our relief, the game changed dramatically. I hesitate to discuss individuals but I would like to opine that impact sub might be Rowan Liburd's best position. This afternoon, he was highly effective, scoring once and making two others. He is joint top scorer and has 5 assists, 2 ahead of Brad Ash. A popular post-match views was that Symo turned the Cup tie around. He certainly made a decent contribution and worth remembering that he is joint top goal scorer, despite all the splinters in his bum.
Truro crumbled under our pressure though still had a couple of chances themselves. Five -five would not have been unfair. Significant their top scorer is a left back? We got away with another victory. Our finishing was the difference. I've been warned about using the words "lethal" and "Hereford" in the same sentence but there you go; it's slipped out now. Who knows, that might be next week's headline in the Hereford Times. Five chances. Five goals. I rest my case.
Five goals. For us. In one game. Not seen since the days of Beadle? I savoured that warm glow of victory again during the 50 miles home. I could get very used to this. What a difference I made.
Simon Wright