The Hereford U18 community youth team progressed in an FA Youth cup-tie at Coton Green, winning by three clear goals in a 4-1 victory. Simon Wright was there for Talking Bull.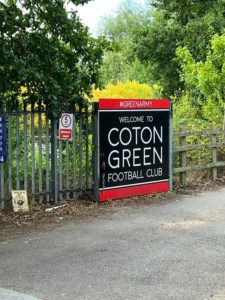 Coton Green FC are a Tamworth-based club, recently promoted into Midlands League Division One (Step 6). For clatty., that's one level below Westfields, Lads Club etc. Coton Green FC literally have more players than fans (150 players, 28 managers and staff) with an average gate of 100. Can't be easy. Tamworth is traditionally a place for displaced Brummies, many of whom head back to the second city for their football fix. Tamworth FC sweep up most of the want-to-stay-local beautiful game lovers.
You do wonder about the future for these warm-hearted grassroots clubs, being hammered by ever rising energy prices. And parents of their players hammered by fuel and energy costs and player subs. How will they keep going? In the circumstances, feels harsh that the hosts have to pick up the bill for one of Jason Jones's vehicles, a bill which surely exceeded their income for the night from the 70-strong attendance. That's the rules of the competition and what a perk for the young HFC players. Everybody has a tale. The coach driver was a former referee who officiated games in the Conference and had previously refereed Hereford United youth cup games.
Still beset by every kind of legitimate reason for absence including international clearance (still!), the Hereford U18's now owes more than a nod to the HFA U16s team for providing a third of tonight's squad. Even more so after top goal scorer Callum Gwillim fractured his foot playing for Westfields Development last Saturday. Admittedly Callum is also the solitary scorer after the one League game but come on, "top" sounds better. The hastily added additions to our registered squad included a 2016 Wembley mascot, a Decathlon athlete and a former contestant in the Hereford Times Baby of the Year. Fun trivia apart, all of them can play.
Beset by competition from Tamworth and the Sutton Coldfield clubs all pursuing the same young players, the Fazeley-based club also had to lean heavily on their under 16's team to bolster their ranks. They fought determinedly against the Bulls and with the scores tied with barely twenty minutes left, the penalty shootout spectre loomed. Simons had put the home side ahead but Edward Mee soothed troubled brows with a chipped equaliser just five minutes later. With his workrate, pace, determination and towering presence, Teddy Mee literally stood out.
Maybe not surprising in the 70th minute that young Mee turned a defender and turned the game when said defender crudely tackled him from behind in the penalty box. Hard-working midfielder and other man of the Match candidate Cameron Davies scored from the spot and from then on, Hereford looked stronger and stronger. Lund netted a key third from the edge of the box and then set up the quick footed Jude Cook for a fourth goal near the end. Both Lund and Cook have averaged over a goal a game for their U16 HFA team.
Unfortunate that Hereford's Zac Bruton was sent off for a rash tackle ten minutes from time. Zac had battled determinedly in the midfield muck and bullets and his suspension will be another headache for coach Zeke.
It was pleasing to see Gaffers Josh and Steve observing with interest. Typically, Steve Burr knew a couple of the Coton Green first team. If they wear a football shirt, Steve Burr will know them. Pleasing too that the hosts insisted on feeding everyone with tray after tray of chips coming out of the kitchen. They may be a new step 6 side but they know how to make people feel welcome. An antidote to recent events.
Hereford U18 will be in the FA Youth Cup First Qualifying Round draw with the game most likely to be on September 14th. Radio Hereford FC intend to cover the game.
Hereford: Atkinson; Thompson, Morrish, Bennett, Lewis; Bruton, Davies, Jenkins, Johnstone; Mee, Groves. Subs Cook (for Groves 3 mins) Lund( for Jenkins 60 mins) Lloyd (for Mee 86 mins). Not used Bobryzcki